Tweet
At the Gavi pledging conference on Monday, the UK and the Gates foundation emerged as its top donors.
Who are Gavi's leading benefactors, past and present?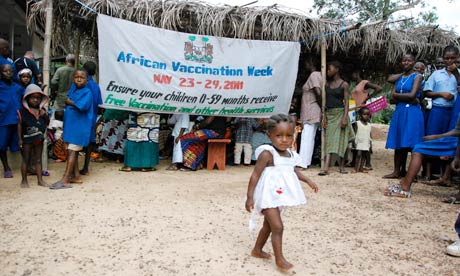 Mothers and children attend the Koribondo community health centre in Sierra Leone during Africa Vaccination Week, when health workers travel to remote areas to immunise children who have missed a vaccine. Photograph: Doune Porter/Gavi/DfID
The world's top aid donors gathered in London on Monday to pledge support and hard cash to the Global Alliance for Vaccines and Immunisation (Gavi) – a global public-private partnership to help the world's poorest countries access vital vaccines and reduce child mortality.
Gavi asked donors to bring $3.7bn (£2.2bn) to plug its funding gap and help immunise 243 million more children in 72 countries by 2015. Gavi says around 86% of its 2011-15 resources will be spent directly on vaccines, with the remaining 14% spent on programmes such as those to strengthen health systems and support civil society organisations.
At the conference, the UK and the Bill and Melinda Gates Foundationemerged as top donors, pledging $1.3bn and $1bn respectively. In total, donations at the Gavi conference totalled $4.3bn, exceeding the $3.7bn target by $600m.
GAVI conference 2011 – How much did they pledge?Donors at the pledging conference had several options: they could either give Gavi straight cash (grants), or contribute through special funding mechanisms: the International Finance Facility for Immunisation (IFFIm), which front-loads funding by issuing bonds to private investors, underwritten by a government's legally binding pledges to contribute from future aid budgets, the Advance Market Commitment (AMC) or the new Matching Fund for Immunisation.
Last week, the British government announced it would match up to £50m ($81m) in business donations to Gavi. Mining firm Anglo American – which has 95% of its operations in developing countries – was among the first companies to pledge funds under the scheme, announcing a donation of $1m a year for three years.
Here we've pulled out the data on Gavi's top benefactors, past and present. Some highlights:
On Monday the UK pledged $1.3bn, amounting to just over 30% of total commitments. The Gates Foundation pledged $1bn, counting for 23% of the total.
Other top pledges on Monday included: $677m from Norway and $450m from the US.
Japan and Brazil attended the pledging conference for the first time, committing $9m and $12m respectively.
GAVI's largest corporate donor, "la Caixa" Foundation, extended its financial commitment by $6m and new donors Anglo American plc and Absolute Return for Kids (ARK) made their first pledges, $3m and $1.6m respectively.
Though the Gates foundation was one of Monday's top donors, it is no longer Gavi's primary benefactor. When Gavi opened up shop in 2000, 98% of its funding came from the Gates foundation.
Over the past decade the share of Gavi's resources coming from private donations has decreased substantially. Private donations to Gavi hit an all-time low in 2006, amounting to just 0.9% of Gavi's funding. By 2010, the split was 24.1% from private donors, 75.9% from public donors (governments).
Who funds GAVI? Private vs Public contributions (2000-2010)Below we've included all the most recent data on Gavi's donors since 2000. What can you do with it?
Data summary
Who funds GAVI?

Click heading to sort

| Source | Pledged by Sept 2010 | Pledged Oct-Dec 2010 | New Pledges June 2011 |
| --- | --- | --- | --- |
| Australia | 52 | 64 | 149 |
| Brazil | | | 12 |
| Canada | 158 | 51 | 15 |
| Denmark | 5 | 4 | 19 |
| European Commission | 14 | 29 | 15 |
| France | 366 | | 146 |
| Germany | | | 73 |
| Ireland | | 13 | |
| Italy | 481 | | 25 |
| Japan | | | 9 |
| Luxembourg | | 6 | |
| Netherlands | 34 | | 175 |
| Norway | 136 | 6 | 677 |
| Republic of Korea | 1 | | |
| Russia | 41 | | |
| South Africa | 4 | | |
| Spain | 48 | 3 | |
| Sweden | 8 | | 201 |
| United Kingdom | 1114 | | 1335 |
| United States of America | | | 450 |
| Bill & Melinda Gates Foundation | 341 | | 1000 |
| HH Sheikh Mohammed bin Zayed | | | 33 |
| la Caixa Foundation | | | 6 |
| Anglo American plc | | | 3 |
| Absolute Return for Kids (ARK) | | | 3 |
| Investment Income | 80 | | |
| Cash & Investment drawdown | 195 | | |
| TOTAL | 3077 | 176 | 4346 |
• DATA: download the full spreadsheet
More data
Data journalism and data visualisations from the Guardian
World government data
• Search the world's government data with our gateway
Development and aid data
• Search the world's global development data with our gateway
Source: http://www.guardian.co.uk/global-development/datablog/2011/jun/13/whos-funding-gavi-immunisations-vaccines?CMP=twt_fd#data